The sounds of blades and screams in common were still echoing though his head. Finally he could prove his dominance over the human forces in a battle of his style! Strike and retreat, just to repeat the whole thing, no commander could have executed it better than him he though in this moment. Jahraka leaned back in his chair, taking another few puffs from his pipe. He remembered well…

"Time to move on mons, dey be tharr, weakenin' em 'ere makes dah fight easier if dey dare go fo' Lordaeron again!"
"Sure thing boss!"
was the common answer. Poisons, enchants and magical spells were applied to weapons swiftly to aid the struggle of the human troops to leave their body and move onto the afterlife.
The attack went fast and without notice, crossing the bridge taking out the surprised guards to storm the Town Hall where as expected parts of the invasion forces were holding a meeting. This was the moment where mercenaries showed their skill, close quarter combat in rooms was practiced not only in previous pillages but also on vessels, if zeppelin or ship no matter! The Alliance might have a superior infantry but when it comes to dirty tricks they stood no chance, without order and formations they we just as easy as the civilians!
Jahraka gave sign to leave the Town Hall and push back, the guards were alerted and he knew it was too risky to stay within their buildings, in the worst case they might be trapped.

"Ride to dah bridge!"
he yelled when the humans started taking control of the battle, he saw their leader, the heavy armored human whose shield would resist even the axe of the tauren Verragar and Terdinand!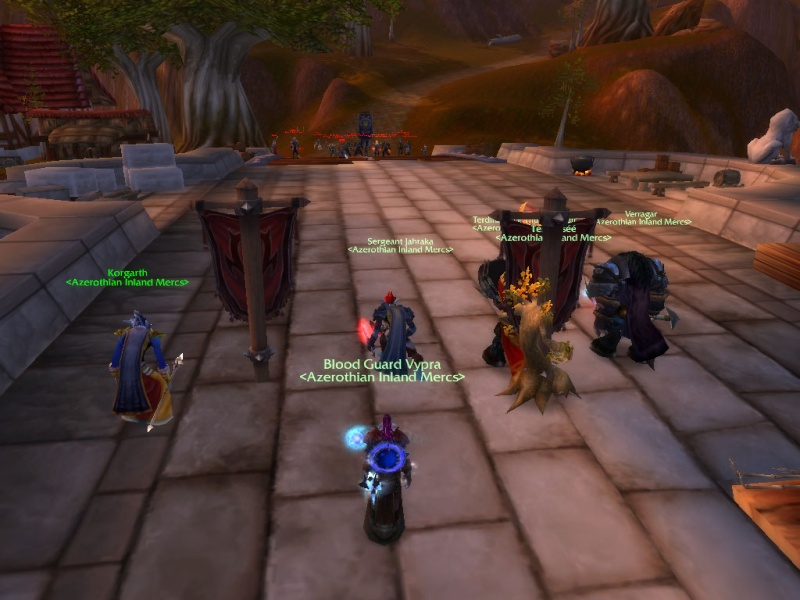 But they made a mistake, they left them to regroup and capture the bridge, the battle continued there were he once again proved the power of few, but finely selected elite fighters! But this was not his goal, he disliked the human Kingdoms but to keep his band together and loyal the coin had to cling into his purse.
…
To be continued.

_________________
Son of a Biscuit Eater!